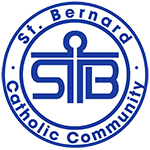 Heart of the Parish
"People are the heart of the Parish"
JUNE 2023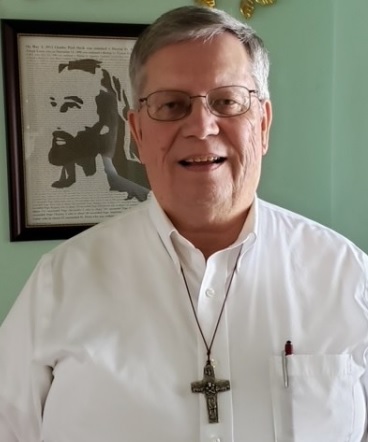 Servant of the Service Mysteries—Deacon Charles Sheik
Deacons wear many hats, all in service of God and the church. Deacon Charles "Chuck" Sheik became a deacon ten years ago, while a long-time member of St. Elizabeth Ann parish. When his pastor there, Father Walter Nolte, was transferred to St. Bernard he encouraged Deacon Sheik to follow him to fill a need. After prayerful consideration, he accepted the invitation and has been serving us for eight years. His wife of nearly 42 years, Pat, serves with him.
A deacon is second in hierarchy of a parish. A priest is first and is the servant of the sacrificial mysteries; a deacon is the servant of the service mysteries of Christ. His duties include all that a priest does except saying mass and hearing confessions. To become a deacon a man must be between 35 and 55 years of age; he may be invited or have a calling to serve. If he is married, it requires the commitment of both a man and his wife. A year is spent in discerning the call of the vocation.
Then comes four years of study before a final commitment and approval by the wife and a panel of serving deacons. When ordained by the Bishop the deacon may be called to serve in any parish of the diocese, wherever the need occurs. There is no salary. A wife serves along with her husband in whatever capacity is needed. For instance, Pat accompanies Deacon Chuck on all of his hospital or home calls, as well as serving in other ways.
Deacon Sheik was born and raised in a rural area of Ivanhoe, Minnesota, one of nine children, four brothers and fours sisters; one of the girls is his twin. He attended trade school and spent 46 years with the same company as a designer of hydraulic equipment, and lived in several places.
His wife Pat was in the insurance business with the same company for 40 years. Both are now retired. They had two children, Cassandra who passed away from a rare form of cancer and its treatment in 2021. Their son Chris lives in Omaha. They also have a grandson, Grant, age eleven, whom they recently took on a trip to California. When he has the time Deacon Sheik enjoys fishing, playing cards, and playing some golf.
Deacon Sheik has a deep faith and loves to share it. One of his first assignments at St Bernard was to lead RCIA (Rite of Christian Initiation of Adults.) This is the program interested adults undertake to learn about the Catholic faith and to discern whether or not they wish to become a practicing Catholic. For eight years he has led several adults into the Catholic faith. The program runs weekly from September to April each year, ending during Holy Saturday services when the participants receive needed sacraments and commit to being faithful practicing Catholics. The best way to encourage these potential Catholics is to set an example and to be available to them to answer questions on how your faith has affected your life. Deacon Sheik encourages any parishioner to join in with the next RCIA sessions to learn more about your faith and be an example to the applicants. Catholics of all ages, even cradle Catholics, would benefit in filling in the things you forgot from grade school religion classes, or missed in high school when you were not paying attention. It will help you review and confirm what you do know about your faith and bring you up to date on the church changes and practices that have occurred over the years. Faithful, practicing Catholics are the best examples these students could have.
Deacons fill many roles, especially behind the scenes, for our parish. We thank them and their wives, past and present for their selfless service. We are grateful too for the continued service of the wives of the deacons we have lost. With only a single priest serving a church or family of churches, the deacons and their wives are a necessity and a blessing, and we thank them for serving us.
Written by Mary T. Mick
APRIL 2023
Introducing Rosanne Chrystal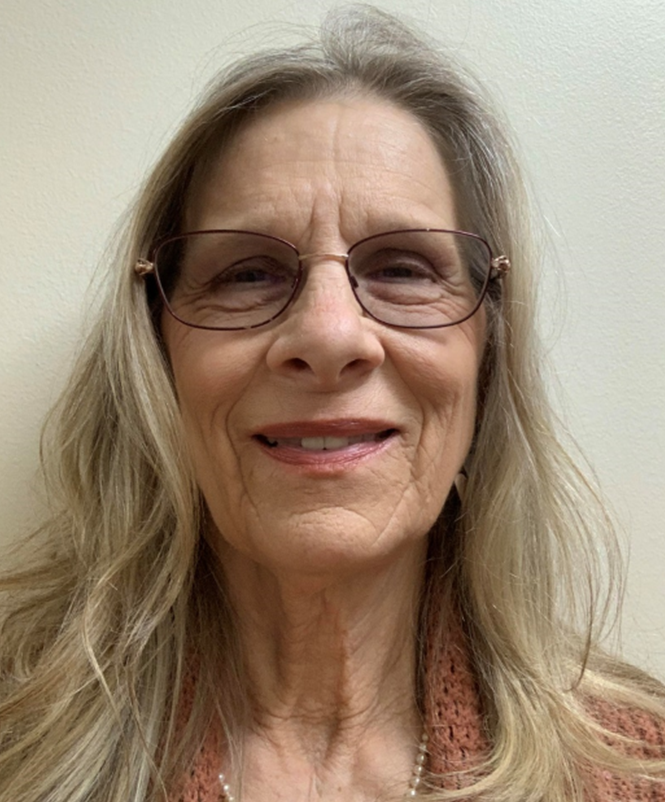 When asked to choose which of her many St Bernard volunteer activities she enjoys the most, Rosanne Chrystal answers—St Vincent de Paul Society—because it allows her to serve the people. She calls it a vocation because it is a ministry that is called to serve the poor, who are referred to as 'neighbors.' The St Bernard Conference serves the local area, so the people served really are our neighbors. Each conference serves within specific street boundaries only. Rosanne says 'It is a ministry that is both rewarding and frustrating.' Rewarding to help people obtain the basics needed for life when they have hit a rough spot,…but frustrating because of the necessary and practical restrictions of eligibility, the state of the economy, lack of adequate employment, and the constant need of funding, in spite of the generosity of St Bernard parishioners and local businesses. Rosanne served as president of the St Bernard Conference for five years, and now continues to serve in several capacities–at the food bank, interviewing prospective needy neighbors, taking calls for help, recruiting volunteers, etc.
In addition to serving the people via the St Vincent de Paul Society, Rosanne serves the parish in several other capacities: a lector at masses (more are needed); an EMHC (Eucharistic Minister of Holy Communion) to the homebound (more are needed); cleaning and decorating the church (more help is needed); hostess for the Wednesday morning gathering—all are invited; a very popular baker of Barbie cakes and cinnamon rolls for the carnival; and sewing doll clothes for baskets for the dinner auction.
Rosanne is a native Nebraskan, who grew up on a farm outside of Hartwell, NE, 20 miles west of Hastings. She attended a catholic grade school, and had to board with her aunt, in order to attend St Cecilia Catholic High School in Hastings, the closest to her home town. She attended college at Kearney State College, where she met Dan Chrystal, and they were married when still students. Dan finished his degree, and Rosanne finished hers later at the College of St Mary in Omaha. She and Dan have two daughters who live in Omaha and a son in Ames, IA. They are very proud grandparents of four grandchildren—a granddaughter attending West Point Military Academy, another granddaughter graduating from Smith College this spring, a grandson a senior at Florida Atlantic University, and a granddaughter a senior in high school in Ames, IA.
Rosanne's working career was with the telephone company, beginning as an operator and ending in finance and, then retirement. During her working years, she also earned a Bible Degree through the Archdiocese, and a Master's Degree in finance from Bellevue University.
Dan and Rosanne and family moved into St Bernard parish in 1987. Two of their grandchildren attended St Bernard from preschool through eighth grade. After many years and prayers Dan, (not catholic), attended RCIA this spring and was received into the Church this past Holy Saturday. He is already an active volunteer at parish activities.
Rosanne is devoted to the St Vincent de Paul Society and wants to encourage anyone interested in serving to consider talking to one of the members. It is a very rewarding, very busy ministry and needs more people with a variety of talents to perform computer skills, take phone calls, make referrals, stock supplies, and more. Training is provided and new volunteers work alongside experienced members until they are comfortable performing a task. If you are interested and are willing to 'serve the poor', contact any member of the Society or the rectory staff.
[Editor's Note: ALL of the volunteers at St. Bernard are the "Heart of the Parish." All of you are appreciated, and the parish could not function without you! The ones featured in this publication are chosen is to acquaint parishioners with people who have been volunteers for many years, (so you can put a name to a face), and to make you aware of the many needs and opportunities there are in the parish to offer your talents. Each interview may highlight a group which serves the parish and is desperately in need of more volunteer help. If you are not active in our parish and are looking for a place to serve, please consider exploring one of the groups featured and becoming a more active parishioner.]
FEBRUARY 2023
Introducing Father Gadache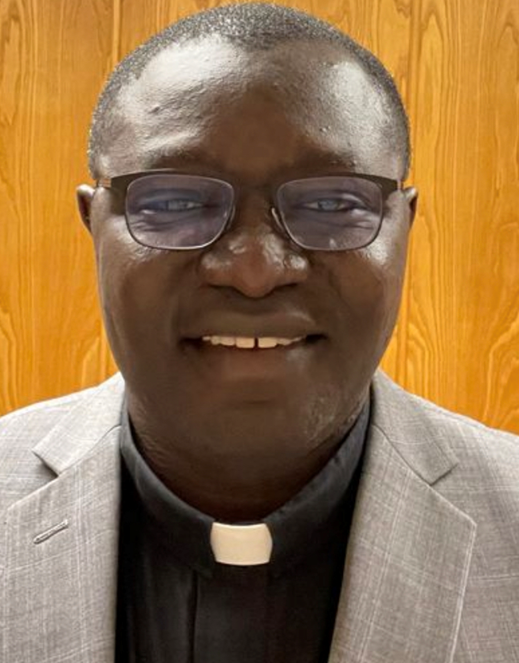 Father Michael Gadache will become St. Bernard's pastor in July 2023, and though he will have a dual assignment, he has stated that being the pastor of St. Bernard will be his main focus. His second assignment from the Archdiocese is to continue as Chaplain for the African groups, Our Lady of Africa and St Michael, who may eventually combine into one group and will be based at St. Bernard.
Father Gadache has considerable experience as a pastor, 13 years in his home country of Nigeria, and more recently at St. Pius X. He sees his mission first and foremost as a pastor leading his people in their spiritual journey.
Father Gadache's name on legal documents is Father Ahmadu Michael Gadache, but he is popularly known as Father Michael Gadache, and prefers to be called that. He was born and grew up in Nigeria.
He has a large extended family in Nigeria, including one sister and four brothers. He was educated and ordained in Nigeria and became and remains a diocesan priest of the diocese of Minna in central Nigeria. As reported in our bulletin a few weeks ago, the parish in Minna where he served as pastor, Sts. Peter and Paul Catholic Church was the victim of terroristic violence against the Catholic church in Nigeria. In January the rectory was attacked and burned; its current pastor, Fr. Isaac Achi was killed and his assistant was wounded. Fr. Achi was also Father Gadache's uncle. He wrote the following about Fr. Achi:
"Fr. Isaac Achi will be greatly missed by family, friends and the entire Catholic Diocese of Minna. He was not just a priest, but also a father figure to very many people and families. He will be greatly missed. Rest in Peace, dear Father."
So how does a native Nigerian priest come to serve parishes in the United States? Nigeria has a large population of Catholics, and a significant number of young people in its seminaries and convents. The Minna diocese has a good number of priests to serve its needs, and its bishop was open to sharing them as missionaries to the U.S., saying, "It is all one church" and he feels it is our collective responsibility to teach and preach the gospel everywhere in the world. So when Fr. Gadache was asked to be a missionary to the U.S. to help with our shortage of priests, he was eager to accept. Two priests were requested, and both accepted. He had visited the U.S. in 2015 and was excited for the opportunity to serve here. It has been a serious culture shock, especially the food, but he is adjusting.
His first assignment in the U.S. in 2019 was at St. Pius X, but housing was not immediately available there, so he was housed at St. Leo the Great rectory. He made good friends in that parish who helped him adjust to his new culture, and they remain close friends today. When housing became available at St. Pius X, he moved there, where he served as Associate Pastor, and is currently acting Pastor in the temporary absence of the assigned Pastor.
In his rare free time he likes to read and write and follow "futbol", i.e. soccer. He only had time to watch a bit of the World Cup on TV, and since Nigeria did not make the finals in Qatar, he rooted strongly for the U.S.
Fr. Gadache's second assignment is as Chaplain to the African Community, who will also adopt St. Bernard as its home base. This benefits St. Bernard by increasing its Mass attendance, a numbers criteria the Archdiocese uses to determine how many priests are assigned to a parish, and the number of Masses celebrated. The African Community is a group of people with the commonality of all originating from various African countries and being Catholic. Their desire is to preserve their native religious customs to pass down to future generations so they are not totally lost as they are assimilated to life in the U.S. They live all over Omaha, perhaps belong to other parishes, but need a home church that will welcome their presence and join their services as they choose.
Father's duties as their Chaplain is to offer sacraments such as Baptism in their traditional manner if requested, to assist them with whatever social events they plan, and now help them make a transition to their new home base of St. Bernard.
As St. Bernard's pastor he will also work to blend St. Bernard's and the African communities into a cohesive whole on our joint path to harmony and serving God and each other.
DECEMBER 2023
Who is Rose?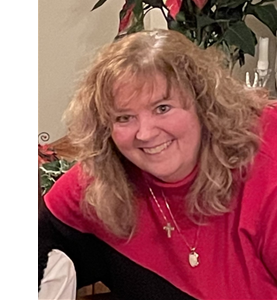 On a couple of recent Sundays at Mass, the priest or lector made a comment thanking "Rose" for the success of the Annual Dinner Auction held in October. If you did not attend or were not one of the many volunteers for the event, or aren't very active in parish events, you may not know who Rose is.
"Rose" Flores is the Business Manager and Director of Development for the parish and school with an office in the rectory. She wore her Development hat when she expanded the dinner auction, and with the help of the rest of the rectory staff, many volunteers, generous donors, and alumni and attendees made it a more profitable event. She has continued to lead the event with increasing profits every year, this year's earnings, a record $131,000!
Rose was hired by Fr. Walter Nolte as the parish Business Manager in 2013, and when he found out she liked to plan parties, he asked her to become Director of Development also. She has since hosted more parties, such as the annual Hooley, which began as a community building activity and has grown into a source of revenue, as well as an enjoyable event for all ages.
Rose is a native Omahan, and after graduating from UNO, worked for NCR Corporation before moving to California, following her husband in his military service. Her final job in California was as the Corporate Controller for a winery, a position she held for 20 years.
Once her husband retired she persuaded him to move the family to Nebraska so she could again be near her large family, the Griffiths. One of her eight brothers and sisters, Mike, told her about an open position at St. Bernard. She interviewed with Fr. Nolte and accepted the job. It fit her requirement of serving people. She loves her job and says that it brings her joy and happiness, mostly because of the loyal group of volunteers which she can always count on to answer her call for assistance. One of the recipients of the Annual Dinner Auction is the school with tuition assistance for those students whose parents wish their children could attend our award winning school but cannot afford all of the tuition.
Many of the school's students are only able to attend our school with financial assistance. Rose works with any parent of need who wishes his/her child to attend our school. The church community benefits by maintaining a viable student population, and exposing children and families, including non-Catholics, to Catholic beliefs.
As parish/school Business Manager, Rose oversees the business aspect of the parish which has four parts—Church, School, Cafeteria, and Childcare. Each year she works with each unit to compile its budget, presents it to the members of the Parish Finance Committee and the Pastor, and after their approval, it goes to the Archdiocese for its approval.
Rose and her husband, Rick, are parishioners of St Bernard. They have three grown children, a son and two daughters, and two grandchildren. All of her family, including her large extended family, enthusiastically attend all of the 'parties' she plans at St. Bernard. All parishioners, alumni, and friends are cordially invited to all of the parties. Please join us!
[This bi-monthly newsletter is designed to keep our St. Bernard parishioners and friends better informed about the personnel and happenings of the St. Bernard Community. The Weekly Clairvaux, our church bulletin, announces church and school events. The Heart of the Parish plans to feature people who are the heart of St. Bernard, from staff, school and childcare personnel, and the many volunteers who keep this parish alive and thriving. With the changes coming to our parish, the more information you have the more comfortable you will feel, and perhaps be encouraged to be a more active "person of the parish."]
​
The current editor and writer of this publication is Mary T. Mick. She and her late husband, Garry, have been members of St. Bernard's parish for over 51 years. Their daughters attended the school, and she was president of the Home and School Association and volunteered for the school library during that time. She now volunteers for the church library, writes reviews of its offerings for the bulletin, and bakes for funeral luncheons. Her writing experience includes being writer/publisher of a newsletter for a local nature non-profit for the last 16 years. She enjoys any opportunity to write. Comments, questions, or suggestions for future articles, please email: mtmick1906@gmail.com
​
Mass Times
Saturday 5:00 pm
Sunday 8:30 am | 11:00 am
Tuesday-Friday 8:00 am
Confessions
Saturday 3:30 pm
Any time by appointment, call 402-551-0269