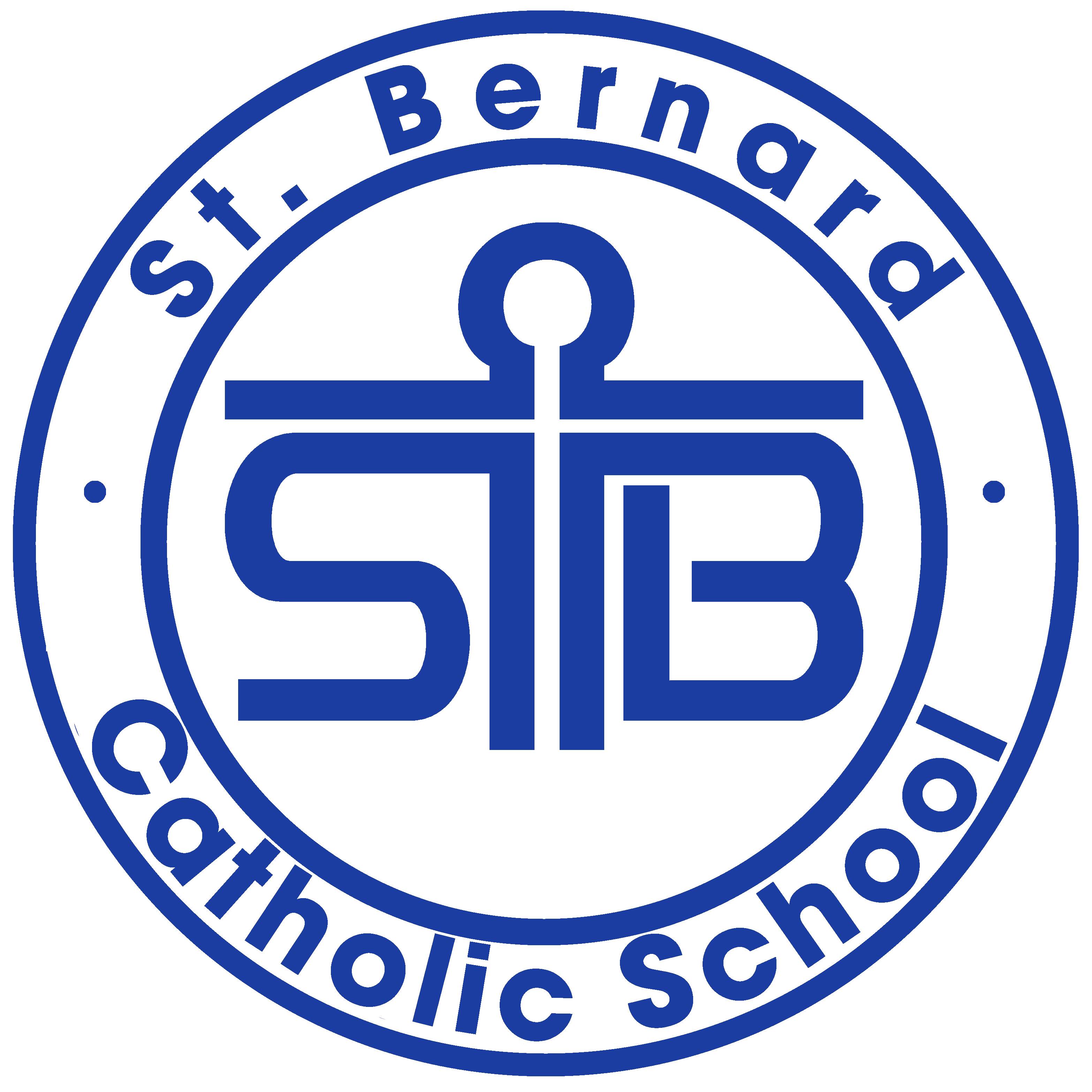 Our School Mission
Making Christ present in all we say and do by:
-Serving Others-
-Growing in Knowledge-
-Preparing for the Future-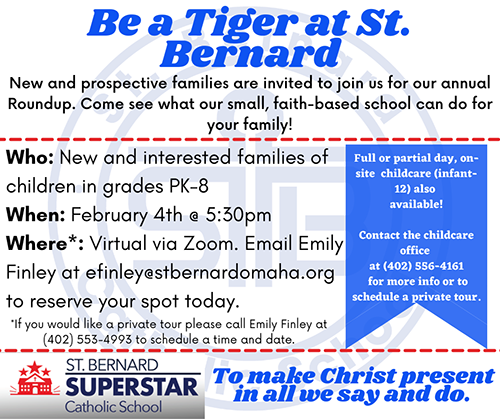 St. Bernard Catholic School
3604 N 65th Street
Omaha NE 68104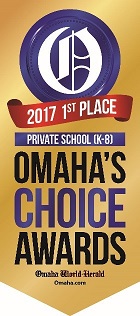 GOOGLE CALENDAR
For the most accurate and updated changes to the calendar upload this live Google calendar to your smartphone using the Google Calendar App or syncing it to your current calendar. You will be able to get notifications of new events, changed events, or canceled events.
St. Bernard 2020-2021 School Calendar
Serving Students in grades PreK-8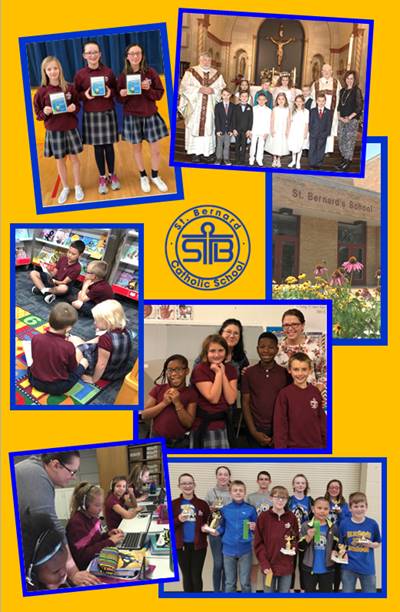 St Bernard officially opened October 1912 in a brick four-room school house.  There were 75 students in grades K-8.  In 1917 the current school building was built.
As enrollment increased, so did the size of the building with multiple new additions being added. In 1962 St. Bernard had its largest enrollment: 1213 students. There were so many students that students had to come in shifts!
Today, St. Bernard serves around 170 students in grades PreK-8. We have an onsite daycare for infants through school-age. We serve students from all over the city, and beyond. Many of our students receive various scholarships or financial assistance whether it be from the parish, grants, or the Children's Scholarship Fund.
In most recent years, St. Bernard has focused on growing in community, building a STEAM lab, and implementing blended learning.
Curriculum
St. Bernard follows the rigorous standards laid out by the Archdiocese of Omaha Catholic Schools Office. We have high-expectations and strive to help each student succeed. In recent years we have added STARS assessments, Fountas and Pinnell benchmarking, and Lexia to facilitate student growth. These tools help teachers determine where students are in the process and what skills need more practice in order to achieve individual and class success. Students in grades 3-8 also take the diocesan mandated Terra Nova assessment every Fall.
Core Classes:
Religion
Reading
Language Arts
Math
Science
Social Studies
Specials:
Music
PE
Library/Media
STEAM (3-8)
We have a new and growing STEAM lab available to our 3-8 grade students. Each week they have one class period in the lab, it is also available to teachers for use when it is not being used for class. We are so excited about all the amazing opportunities our students have to problem solve, experiment, and learn in this new environment.
Technology in the Classroom
We are a Google school. All students in grades 3-8, and all faculty members, have a school Google account. This means students have access to the full suite of Google apps including Docs, Slides, and Sheets. While the server is self-contained, keeping students safe from outside threats, students have access to their files from any device with internet access.
Teachers are striving to incorporate technology into daily learning.  We currently have three fully functional Chromebook carts and one iPad cart that students use for Media Skills, STEAM and other technology-based work. 
Religious Formation
"Make Christ Present in All We Say and Do"
Students attend mass every Friday as well as any Holy day of Obligation that falls during the school week. Students actively participate in the Mass especially when it is their classes turn to read, sing, and present the gifts. Whole school confessions are offered twice a year, during the Advent and Lent seasons.
Starting in 4th grade our students are trained as Altar Servers and take turns serving at masses.
In 2nd Grade, our students receive their First Reconciliation and First Holy Communion.
St. Bernard's celebrates the Sacrament of Confirmation every other year. Our next celebration will be in 2021. Students in 7th and 8th grade are confirmed during these celebrations.
Students are paired up with "Prayer Partners" each year to do various activities throughout the year as well as to sit together during mass.